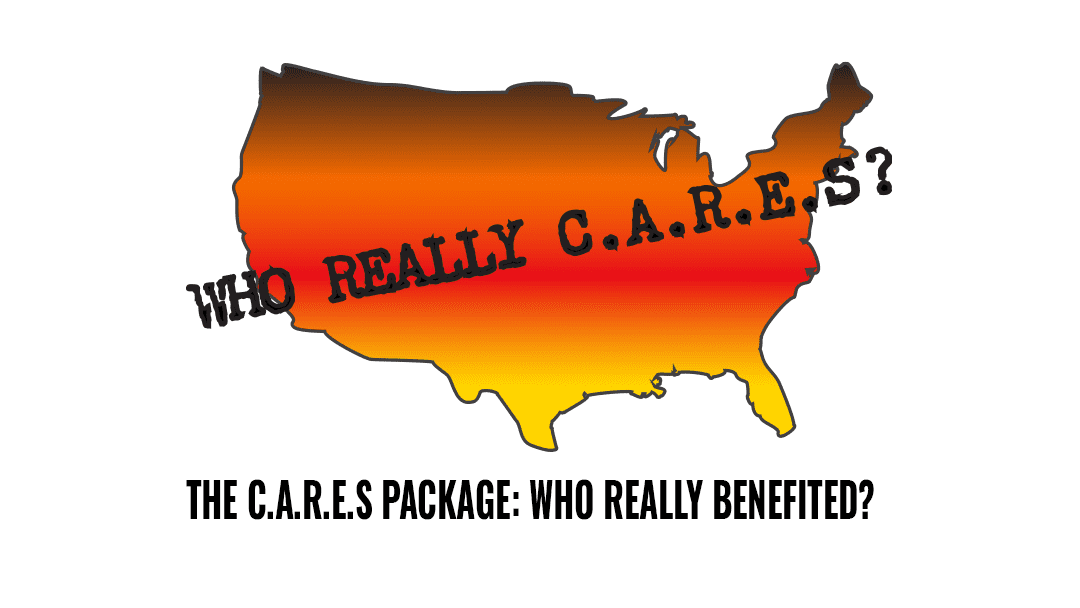 By Morgan Lowe
On March 27, President Trump signed the Coronavirus Aid, Relief, and Economic Security Act (CARES Act), which seems like it will be the only federal attempt to assist American businesses and citizens as we struggle to make it through the COVID-19 pandemic. But eight months later, one has to question, is this enough?
Does CARES Care?
The bill, which received bipartisan support, approved the distribution of two trillion dollars to keep the economy afloat. The Department of the Treasury touts that the bill "Works for all Americans" and "provides fast and direct economic assistance, for American workers and families, small businesses, and preserves jobs for American industries."
Individuals were allotted $603.7 billion and small businesses  $377 billion. Visual Capitalist calculates that this is only 30% and 19% respectively in comparison to the $500 billion (25%) that was handed out to large corporations. The Department of the Treasury talks a big game for a bill that has not delivered in the ways it purports.
While large corporations continue to survive and even thrive in these difficult times — partially thanks to government payments and tax refunds — small and, largely minority owned businesses, failing or floundering, simply haven't been approved for relief.
Individuals and families with low incomes also reported issues regarding delivery/non-delivery of funds and assistance. Many of them are still waiting for aid.
Americans, unemployed, shut in, frustrated, and afraid of the future, are being told that big companies matter more, and the government will get to you when they can.
Big breaks for large corporations
Many of these large corporations have received beyond adequate corporate welfare by way of tax breaks over the past three years, but they failed to save money for emergencies, instead spending their returns on buybacks. In the midst of the pandemic, they returned to the government this year, to ask for, and quickly receive, funds that were dispersed with almost no questions asked.
Some companies received money that they didn't need and ended up sending it back, while many corporations found ways to attain funds that they shouldn't have by taking small business PPP loans. Other loans benefitted members of President Trump's family and many provisions within the CARES Act made them more wealthy.
Thanks to the presence and acceptance of corruption in this country, we may not ever know every single company that received billions of dollars in taxpayer money during this pandemic.
Small businesses left with scraps
Now, let's compare the experiences of large corporations to small businesses. A few small businesses had their loans rejected altogether. Approximately 70% of small business owners applied for loans and experienced extensive waiting times for both approval and arrival of the funds.
Then, on April 15, funds started to run low before many business owners even had the opportunity to apply. That's right. Many business owners didn't have the opportunity to apply for PPP funding, while large corporations received money quickly, with seemingly no questions asked.
Some of the failures of this process have been addressed; the deadline to apply was extended from June 30 to early August, and additional funding was eventually allotted. But this program, which left many people waiting too long, many with a rejected status, and many with a failed business leaves much to be desired.
Individuals and families get lost in greed and red tape
Some individuals and families were left behind due to poor organization and the outright greed and entitlement of those at the top. The IRS sent out relief, but over $1 million taxpayer dollars went to the deceased due to bureaucratic mistakes.
Many still haven't received their small, one-time checks, can't get in touch with agencies to file for unemployment, and struggle to make ends meet. The $600 unemployment payments have now been reduced to $300, and that unemployment payment will soon be retracted as our legislators continue to imply that working Americans are lazy and the unemployment checks are keeping us from going back to work.
In reality, data suggests that even if people want to return to work, many, about 11% (that's 17.6 million people), won't be able to.
What this means
The underlying messages through the application, disbursement, rejections, holds, receipt, and lack of receipt of money through the CARES Act paint a picture, and it's not a very pretty one. We are being told, though the government's allocation of funds, that large corporations are the government's priority, even during these difficult times.
So far, it seems that this tragedy will further enrich the wealthy. Businesses, families and individuals are still waiting for funds to keep themselves afloat, while trillions of dollars of taxpayer money, funneled through the CARES Act, remains unaccounted for.
What we can do to fight against corruption
What can we do when our legislators make themselves wealthier and banter back and forth for months questioning whether we need or deserve more aid and relief?
Well, we stop waiting for them to further use and abuse us and we act. We move, we pull together, and we organize.
At Wolf-PAC our mission is to add a 28th Amendment to the U.S. Constitution that will address the undue influence special interest money has on government. In doing so, we can eliminate systemic corruption and restore power to the people through laws and policies that actually represent us.
Takeaway
The CARES Act operates under the guise of helping small businesses. It masquerades under a cloak of understanding and concern for the everyday, average American; but we need to stop accepting and believing what our government says they are giving us and look at their actions in relation to what we need.
We need to demand that our representative government is returned to us. Our government is blinded by money and greed — we have to remove this from the narrative. We need to act quickly. Our lives depend on it.
Join us in being part of the solution.