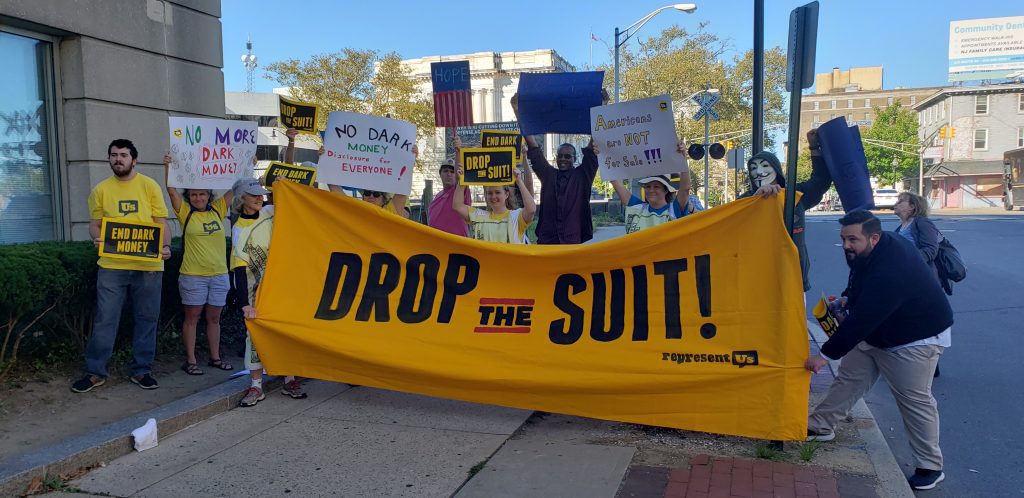 By Lucas Dicus
On September 17 at 9:30 am, a coalition of groups and concerned citizens gathered in Trenton, NJ (the state's capital) to protest a lawsuit filed against a new law targeting dark money in political campaigns. 
The End Dark Money Law (EDM) takes major steps to fix corruption on the state level. It mandates that politically active groups disclose their expenditures over $3,000, and individual contributions received over $10,000, to the state Election Law Enforcement Commission. 
Now, before it can go into effect, Americans for Prosperity (AFP), a political advocacy group funded by Citizens United-proponent Charles Koch, has filed a  suit to overturn the new law. Overturning it would keep dark money in New Jersey politics. 
The AFP lawsuit is "clearly about not allowing the people of NJ to know where the money is coming from," explained Assemblyman Andrew Zwicker. 
The EDM Law has also attracted attention from the American Civil Liberties Union (ACLU) and the Illinois Opportunity Project. Both groups are filing suits against the state as well. "We must be doing something right here because three organizations are suing," said RepresentNJ Leader David Goodman.
Volunteers for both Wolf-PAC NJ and RepresentNJ,  as well as concerned citizens, came to show their support for the law and their opposition to the lawsuit. Participants displayed signs demanding disclosure and transparency, including a large banner reading "drop the suit" and others that called for an end to dark money.
The event kicked off with moving speeches from the chief sponsor of the law, Assemblyman Zwicker, as well as David Goodman, Coalition for Peace Action Executive Director Rev. Bob Moore, and Wolf-PAC National Organizing Director Josh Aciz. 
The rally was intended to "make it loud and clear [that] New Jerseyans deserve to know who is trying to buy influence in their state," said Aciz.
There was a consensus among speakers and attendees that the EDM Law would help to restore democracy and the voices of the voters. Voices that, Zwicker said, "are being dwarfed by the money of special interests."
"I wanted to show support to all volunteers who helped advocate for this bill and made it pass," said Eleanor Bahoy, volunteer and organizing director for Wolf-PAC NJ. "Their hard work will not be drowned out by the dark money groups who want to remain hidden. This issue of corruption is the root cause of all our social and political ills."
Many volunteers came out to make sure their voices were heard.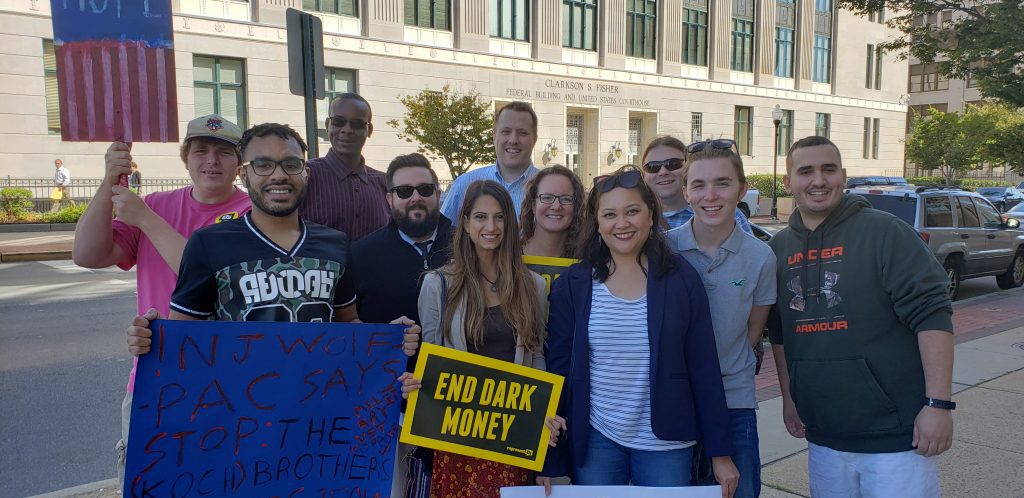 "The end dark money law gives the people the ability to…make things in this country better for everyone," said Brendon Brito, a volunteer with Wolf-PAC NJ. "I felt that by attending I could make a difference."
Zwicker spoke of standing strong. "It's not just simply the Koch Brothers…anybody who says that their self interest comes in front of the people, we will fight them, because what they are debating [in the courthouse] right now is arguably the strongest Dark Money Law in the United States at state level." 
When stressing the importance of the law, Rev. Moore put it succinctly. "Dark Money poisons the workings of democracy."
New Jersey has a lot riding on its shoulders now, but volunteers, citizens, and, yes, even some elected officials are up to the task. 
"We are going to focus our energy to get things right in New Jersey and set an example for the rest of the country," said Goodman.
Those at the rally, and Americans in general, agree: the country needs a system of government that is accountable to 'We the People,' not to whoever writes the largest check. 
"No substantial political reform will be possible until we end the legalized bribery of our politicians. Corporations win and the people lose in this broken system," said Hollie Nelson, Wolf-PAC NJ volunteer. "As citizens, we can't stand by and hope someone else will fix things. We have to make our voices heard and stand up for what is right."
The Road to Legislative Success
Three years of hard, grassroots work: raising public awareness and support, and organizing actions to get "dark money" out of politics ultimately paid off.
The coalition, led by Wolf-PAC NJ and the New Jersey chapter of RepresentUS, succeeded. Earlier this year, the EDM Law was pushed through both chambers of the New Jersey legislature. Then, in June, the groups celebrated as New Jersey Governor Phil Murphy matched his signature to the voices of voters.
Support for the law is strong across the political spectrum, not just among the public, but even with the members of the New Jersey legislature. This is why the law passed, and why the Wolf-PAC resolution passed a few years back. 
New Jersey has taken a stand — saying no more to Dark Money, no more to legalized bribery and corruption. "If our Congress, which is broken because of special interests, cannot do anything," said Assemblyman Zwicker, "then we will protect the people of New Jersey, we show how a fight can be made, and we will show the rest of the states what democracy looks like."
The law requires that contributions or expenditures above their respective thresholds be disclosed so that voters are able to find out who is trying to influence politics in a way that the vast majority of us, quite literally, cannot afford to do. 
Being able to know who the big funders of political campaigns and advocacy groups are helps voters to make more informed choices. In some cases, it helps people recognize other motivations behind advertising and policy. 
"If you cannot follow the money, you don't know what is influencing the political process," said Zwicker.