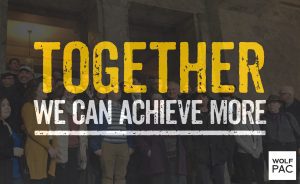 🎫 We have a big meetup in WA next week and you're invited. Join the Wolf-PAC Washington team and Wolf-PAC's National Director, Mike Monetta, for a meetup at Optimism Brewing in Seattle on 9/17/19 at 7:00 PM. As you may know, Wolf-PAC is filming a movie and our film crew will be at this meetup, you do not want to miss out!
No experience necessary – we welcome both new and veteran volunteers. Join us as we begin gearing up for the next state legislative session. It will be a great opportunity to learn more about Wolf-PAC's proven strategy, meet the volunteer team, meet Wolf-PAC's National Director, and of course, have some fun!
Together, we will end corruption with an Amendment to the U.S. Constitution to fix our broken campaign finance system!
When: Tuesday, September 17th at 7:00 PM<— Mark your calendar
🍻Where: Optimism Brewing
Address: 1158 Broadway, Seattle, WA 98122