🎫  Join us for another doubleheader! Join Alicia at 7:00 PM ET for a casual Wolf-PAC social hour, where the night's drink of choice will be a Lavender Infused Lemon Spritzer, a thirst-quenching non-alcoholic beverage.
Come for a good time, good drinks, good conversation, and, of course, good people!
💻 Join Zoom Meeting: https://us02web.zoom.us/j/85067615217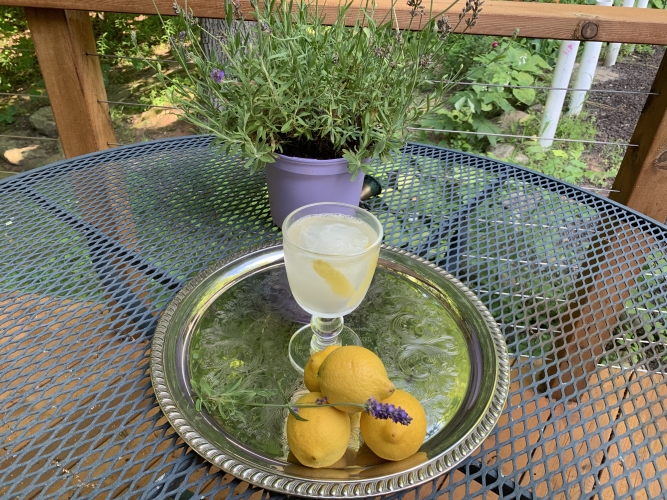 Ingredients needed:
1/2 cup water
2 teaspoons honey
1 tablespoon lavender buds (about 4 springs, buds left intact)
1/4 cup fresh squeezed lemon juice
sparkling water as desired to top off each glass
Optional: lemon zest and lavender sprigs for garnish
Preparation:
In a small saucepan, combine water, honey, and lavender sprigs.
Bring to a boil, then turn off the heat and allow to steep for 10 minutes.
Strain liquid to remove solids.
When the liquid cools, stir in lemon juice.
Refrigerate to chill prior to serving.
Divide between two glasses, serve over ice, topped with sparkling water, and garnished with lemon zest and lavender blossoms if desired.
Nutrition Information:
Serving Size 1/3 cup
Serves 2
Calories 56.00
Total Fat (g) 0.00
Saturated Fat (g) 0.00
Sodium (mg) 1.00
Total Carbohydrates (g) 16.00
Dietary Fiber (g) 0.00
Protein (g) 0.00
🎫 Then at 8:00 PM ET join us for a virtual game night, Boggle! Earn points by spotting words your friends don't before time runs out.  Players have 90 seconds to write down as many words as they can find on the grid before time is up. At the end of the round, score the words. If two or more players find the same word, that word doesn't count.
💻 Join Zoom Meeting: https://us02web.zoom.us/j/85067615217