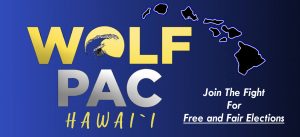 Wolf-PAC Hawaii is on the move and YOU are invited! Come meet Wolf-PAC Volunteer Organizers, Michie McConnel, as well as Jesse Francis for this casual event.
No experience necessary – we welcome both new and veteran volunteers. We will get some snacks, share stories, and have some fun with like-minded people who care about ending corruption. No pressure and plenty of fun!
Learn how you can help make history next session by adding Hawaii to the growing list of states demanding an Amendment to the U.S. Constitution to fix our broken campaign finance system. Together, we will end corruption.
Mahalo and Aloha!
When: Saturday, August 10th, 3:00 PM <— Mark your calendar
🏠Where: Keopuolani Regional Park
*After you RSVP you will be contacted by an Organizer with more details. Also, contact info below for any questions you may have.